Care workers told: 'I wish the bad people in the world could come here and see what good looks like'
ENRICH
Enabling Research in Care Homes
Care workers told: 'I wish the bad people in the world could come here and see what good looks like'
Angeline Albert from www.carehome.co.uk
Care workers across the UK gathered in the heart of the capital to be honoured for their care.
The day after London's terrorist attack in Westminster, care workers across the UK gathered in the heart of the capital to be honoured for their care – despite organisers fearing no one would turn up.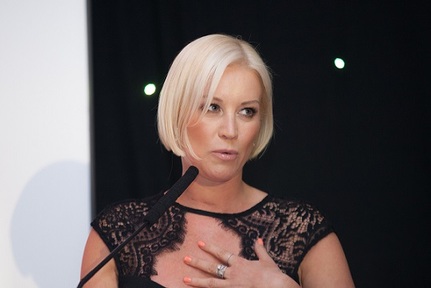 West End stage actress Denise Van Outen plays host at The Towergate Care Awards 2017 Credit: Towergate Insurance
They needn't have worried. In the spirit of Prime Minister Theresa May's 'We are not afraid' keep calm and carry on speech to Parliament nearby, the tables in the ballroom of London's Dorchester Hotel were full for the annual Towergate Care Awards on 23 March.
Run by Towergate Insurance, awards ceremony host, the actress Denise Van Outen, praised care workers for the 'moving' stories of care they had been part of.
Referring to the capital's terror attack, the audience of care workers was told by the insurance firm's chief executive David Ross: 'ÄúI wish the bad people in the world could come here and see what good looks like'Äù.
Care home deputy's sixth sense helps her predict seizures
In the spotlight for 'good care' was The Chestnuts Care Home in West Byfleet run by Downing Care, thanks to its rising star the assistant manager Beata Czapla, who has a sixth sense about each one of her care home residents.
Whether residents are unwell, unhappy or in pain, Ms Czapla is aware of it and can even identify when a resident is going to have a seizure. With a seat at the awards ceremony, Beata, or 'Betty' as she is affectionately known, is described best by her boss – the care home's manager Elaine Baigrie sitting on her left.
Elaine Baigrie says: 'ÄúBetty knows if someone's going to be ill, Betty knows if someone's going to have a seizure, Betty knows if someone's not eating.
"Intuitively she understands each and every one of our residents."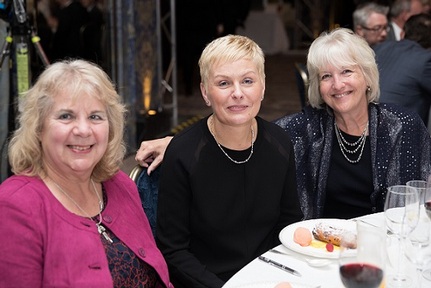 Left to right: Anne Shephard, Beata Czapla and Elaine Baigrie at the Dorchester Hotel for the awards ceremony. Credit: Towergate Insurance
Beata Czapla is credited with spotting little signs such as if someone's 'a little off their food' or not talking much and nips in the bud issues before disaster strikes like an epileptic fit.
In a care home where many of the residents have non-verbal communication, Elaine Baigrie says 'ÄúShe's been able to prevent many, many hospital admissions'Äù.
After arriving from Poland, Beata Czapla's first care job in the UK was as a support worker for Downing Care in 2008 but she has since risen through the care ranks to the post of assistant manager.
'ÄúIt's a little bit different from working in the hospital which I was working in Poland. It's different with people with learning disabilities", says Ms Czapla.
Why did she decide to work in care?
She says: 'ÄúAlways in my life was the situation where I want to work with people and care for them and give them the best quality of life."
The Chestnuts Care Home supports people with learning disabilities, epilepsy, Down's Syndrome, physical disabilities and those with dementia.
She says: 'ÄúAt first, I didn't know whether I would do well caring for people with learning difficulties.
"All residents for me are like a big family and I treat them the same like I would like to be treated in future when I am older.
"I try to understand them."
What does your role involve?
Summing up her role, Ms Czapla says: 'ÄúWe look beyond their disability. "What they can do, not what they can't do.'Äù
Sitting to her right is the mother of a resident who has lived at the care home since he was 20-years-old. Now aged 40, Sam Shepherd cannot speak or sign, has severe learning disabilities, requires personal care and has rejected numerous care workers who came close to him.
Anne Shepherd, who nominated Ms Czapla for the Care Worker of the Year award, said: 'ÄúHe can't talk but he's very astute. He knew Beata was special.'Äù
'Special' care qualities needed for the job
Anne Shepherd says: 'ÄúShe is always smiling, very calm, very approachable. She never flaps and always answers my question or phones me back. 'ÄúMy son sometimes goes into the office and sits with her or he'll follow her around.'Äù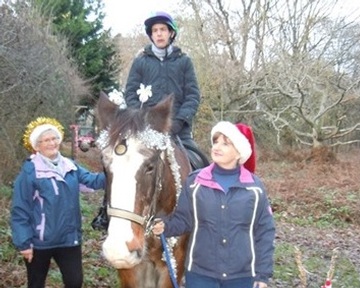 Care home resident Sam Shepherd at Christmas 2016 Credit: Anne Shepherd
Ms Czapla says "I got to know Sam by communicating with the person who knows him best – his mum.
"I tried to observe him. He has a high level of understanding. I ask questions. When hungry, Sam will rub his belly or will grab your hand and lead you to the fridge to show you what he wants to eat."
Mrs Shepherd says: 'ÄúWhen Sam was born I knew he was different. I used to feel bad about Sam being in a care home. I would take him out but I know he's so happy there."
What's she like as assistant manager?
Ms Czapla's duties include managing staff rotas but her single-mindedness when it comes to care extends beyond this work.
Elaine Baigrie says: 'ÄúI know when I'm not there, Betty is managing the home in my absence. She's more than a deputy.'Äù
Described by awards host Denise Van Outen "as an incredibly caring individual", Ms Czapla was among three care workers selected as national finalists for the coveted Care Worker of the Year award.
Care home manager Maxine Cope from Able Care Homes' Belvedere Lodge was also nominated for the award. Working in the Dementia Wellbeing team, Ms Cope successfully obtained funding for one-to-one care to allow them to stay in the care home.
But it was Janette Neal, care manager at Sahara Lodge and Sahara Gardens (run by Sahara Care), who won the title of Care Home Worker of the Year.
Janette Neal impressed judges at the Towergate Care Awards with her 'Äúremarkable'Äù support of people with learning difficulties particularly autistic adults at Sahara Lodge and Sahara Gardens in London's Forest Gate.
Ms Neal helped launch a day care centre in 2011 to meet the growing demands of a community hit by local service cuts.
Ms Neal said: 'ÄúThe caring sector can face some very negative criticism and this event showcased how many wonderful people there are out there who are really striving and making a difference in enhancing people's lives.'Äù
As well as care home workers, The Towergate Care Awards 2017 also honoured family carers, home care workers, foster carers, therapists, GPs, volunteers and nursery workers, with over 400 nominations received across all award categories.