Graffiti artist spray paints memory wall on London care home
ENRICH
Enabling Research in Care Homes
Graffiti artist spray paints memory wall on London care home
Sue Learner, Editor www.carehome.co.uk
A graffiti artist has spray painted a 'memory wall' in a North London care home featuring items from the residents' past such as a chessboard, a vintage record player and a grandfather clock.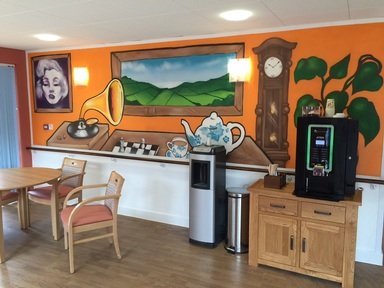 Residents from Wellesley Road Care Home in Camden run by Shaw healthcare, chatted to children from neighbouring Haverstock School who then drew the images they had talked about.
Artist Bradley Woods from Cardiff-based IllustrateProject.com used these images as inspiration for his final mural design.
The mural which spans the back wall of one of the communal areas of the new purpose built facility is designed to comfort residents and help them to reminisce about their past.
June Dover, manager of the Wellesley Road Care Home, said: "The graffiti-style mural has been a great hit with residents since it was painted by Bradley.
"It allows residents to socialise and interact with each other within a relatable environment, helping them to remember aspects of their past, which is often difficult for those with dementia. This acts as a stimulus and encourages residents to communicate more with one another."
She added: "People have been walking past and smiling at the mural and excitedly chatting about how great it is to have something bright and happy on the walls. It has shown how powerful art and imagery can be and also what a positive impact it can have for our residents."
The piece took Mr Woods more than 13 hours to complete, with almost 20 cans of spray paint being used. His most recent work includes a mural of Welsh football star, Gareth Bale, commissioned by the BBC in Whitchurch, Cardiff.
He said: "Art can strike a chord with anyone at any age and visuals can really help to create an atmosphere that evokes pleasant memories for residents. The involvement of school children speaking to residents about what they wanted in the mural gave this project a personal touch and made it all that more authentic. Hopefully the nostalgic memorabilia featured in the mural will help transport residents to a bygone era that they can look back on with fondness.
'ÄúI'm really touched that the mural is proving to be a comfort to residents, as well as a positive talking point.'Äù
Wellesley Road Care Home provides a residential care service for older people and those living with dementia.
click here for more details or to contact Wellesley Road Home