Over 65s with care needs to rise by a quarter by 2025
ENRICH
Enabling Research in Care Homes
Over 65s with care needs to rise by a quarter by 2025
Angeline Albert from www.carehome.co.uk
The number of people over the age of 65 who will need care could rise by 25 per cent to 2.8m by 2025 in England and Wales, resulting in more people with disabilities such as dementia.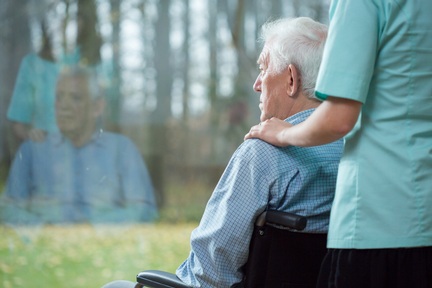 According to research published in The Lancet Public Health journal, the number of people living into old age is estimated to increase by more than half a million (560,000 people) by 2025, when compared to 2015.
The study, which looked at future trends in disability and life expectancy in England and Wales, estimated the future rates of heart disease, dementia and other diseases and the disabilities they may cause, such as difficulty getting out of bed, bathing, dressing or eating.
The study's authors warn that if the shortage of care workers and the poor state of social care is not addressed now, the impact on people with lower incomes unable to live independently will increase.
Lead researcher of the study, Professor Eric Brunner, UCL, UK says: "We find that ageing of the population in the next 10 years will cause an increase in burden of disability that we must not ignore."
More money
The study's researchers recommend more investment in health and social care as well as a need to tackle poor diet, smoking, alcohol, high blood pressure and physical inactivity, which are risk factors for chronic diseases and associated disability.
Lead author Dr Maria Guzman-Castillo from the University of Liverpool said: "Spending on long-term care will need to increase considerably by 2025, which has serious implications for a cash-strapped and overburdened NHS and an under-resourced social care system.
"More cost-effective health and social care provision will be needed, such as increased availability of institutional care, and better financial support Рsuch as tax allowances or cash benefits Рfor family members providing informal and home care."
The research was funded by the British Heart Foundation and was conducted by scientists from the University of Liverpool, UCL, University of Gdansk and INSERM Centre for Research in Epidemiology and Population Health. The research estimates that for people aged 65+ in 2025, life expectancy is projected to rise (by 1.7 years) to 86.8 years, but this later life is more likely to be spent with disability.
Overall, dementia represents the biggest growing cause of disability and rates are predicted to increase by 49 per cent in people aged 65+ between 2015-2025 – meaning that 699,000 people will have dementia care needs in 2025 (a rise of 231,000, when compared to 2015). The second largest cause will be other diseases including mental health problems, diabetes, musculoskeletal disorders and other chronic diseases, which will increase by 37 per cent over the decade.
Preparing for Brexit
Dr Stuart Gilmour, University of Tokyo, Japan, says: "In view of the realities of the impending departure from the EU, such increases will require investment in local workforce education and training measures—more nurses, doctors, and care workers.
"Because of the time required to induct new staff in this sector, immediate action is needed to prepare for this unavoidable health system challenge.
"The British health and social care system faces a rapid increase in the number of elderly people with disabilities, including complex physical and behavioural multimorbidities, at a time when it is uniquely unprepared for even the existing burden of disability in the UK population.'Äù
Kindly replicated from: https://www.carehome.co.uk/news/article.cfm/id/1584699/Over-65s-with-care-needs-to-rise-by-a-quarter-by-2025